What I Saw for $899,000
OK, this style of home doesn't make 'Better Homes and Gardens' but they are gaining attention, according to a recent CBC news story.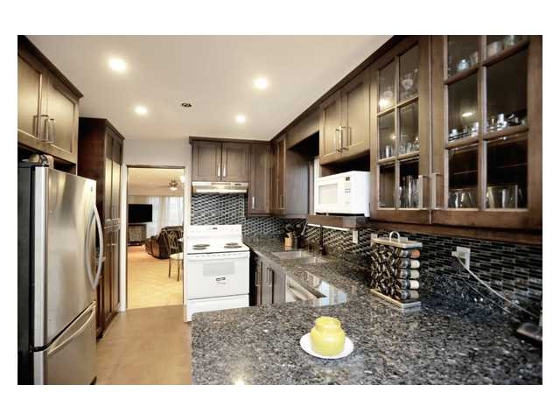 As expected, the outside appearance is 'boxy' and lacks character. First impressions are further disappointing when approaching the front door and seeing it in poor condition. A tip to you prospective homesellers: A poor first impression from the street can turn away a buyer that may otherwise like the inside of your home. But let's not judge a book by its cover and continue inside.
Speaking of the inside (glad you asked), there's pleasant surprises. Of course it has a secondary suite (unauthorized). It has 3 bedrooms, with suggested rent of $900/month + 40% of utilities. Nicely finished. The bathroom has a soaker tub and full kitchen. A shed next to the rear door contains storage with washer and dryer for tenants. Tenants park on the street. The owners park in the rear carport off the lane.
Upstairs, as you can see from this photo, has a new kitchen with stone counter. New flooring. New main floor bathroom. The work was "mostly done by my husband" the wife proudly explained. There is a stacking washer and dryer downstairs. Facing south, there is a large covered sundeck off the kitchen. Do I hear "Bar-B-Que" anyone?!
To see this and homes like it, just contact me.
Bill de Mooy