This is a sample review of the Richmond real estate market area. For an up-to-date review of other areas such as east vancouver, of houses versus townhouses, new or resale, and more... call Bill deMooy 604-274-2222.
DOM
an acronym for "Days on the Market". This is an average of the number of days it took for properties on MLS® to obtain an acceptable offer that became a firm sale. Click here to see July 2012 Average DOM for Richmond.
SP/LP
also known as the "Percentage of Original List Price Received at Sale". Helpful for sellers to determine how much above the expected selling price is a good list price. Note: Aug 09 means August 2009 and not August 9th. July 10 means July 2010 and not July 10th. And so on. Click here to see July 2012 SP/LP for Richmond and see that detached properties (houses) have seen a remarkable spread develop between asking and getting.
SALR
"Sales to total Active Listings Ratio". This indicator shows the relative balance between the demand for homes and supply of homes in REBGV's market. A high ratio denotes a market that is more in favour of sellers creating upward pressure on prices. A low ratio reflects a market in favour of buyers, putting downward pressure on prices. A balanced market is generally associated with a ratio between 0.15 and 0.20, where pressure on home prices is considered neutral. Click here to see July 2012 SALR for Richmond.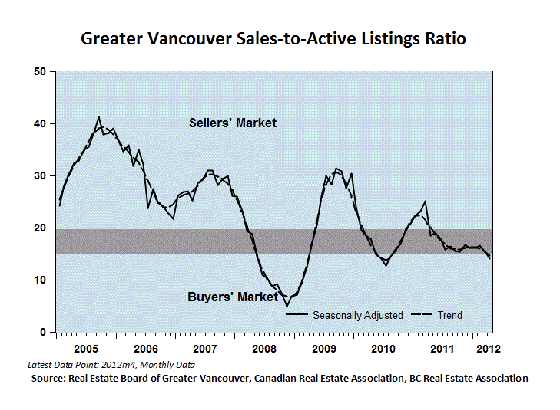 SALES
Do not mislead yourself when you hear statistics on the radio or read in the newspaper. Sales are the number of sold properties on MLS® - not selling price. Often one might hear an announcer state "sales are down 23%". This does not mean prices are down 23%. However, if there are a number of consecutive months of the number of sales falling, then it is likely that prices will follow. Click here to see what level of sales are recorded on MLS in Richmond for the types of housing.
by Bill deMooy, B.Comm. 604-274-2222
Results you can depend on
Macdonald Realty Westmar